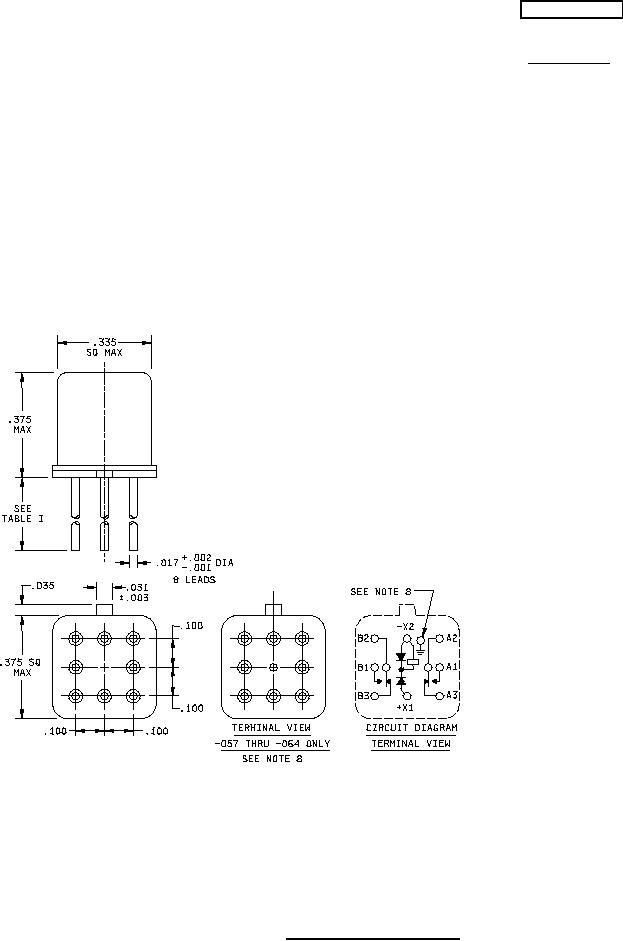 INCH-POUND
MIL-PRF-39016/43E
15 June 2005
SUPERSEDING
MIL-PRF-39016/43D
20 July 1988
PERFORMANCE SPECIFICATION SHEET
RELAYS, ELECTROMAGNETIC, ESTABLISHED RELIABILITY, DPDT, LOW LEVEL
TO 1.0 AMPERE, WITH INTERNAL DIODES FOR COIL TRANSIENT SUPPRESSION,
AND POLARITY REVERSAL PROTECTION TERMINALS 0.100-INCH GRID PATTERN
(SENSITIVE, 60 MILLIWATTS, COIL OPERATE POWER AT 25°C)
This specification sheet is approved for use by all Departments
and Agencies of the Department of Defense.
The complete requirements for acquiring the relays described herein shall
consist of this specification sheet and the latest issue of MIL-PRF-39016.
Inches
mm
.001
0.03
.002
0.05
.003
0.08
.017
0.43
.031
0.79
.035
0.89
.100
2.54
.335
8.51
.375
9.53
NOTES:
1. Dimensions are in inches.
2. Metric equivalents are given for general information only.
3. Unless otherwise specified, tolerance is ±.010 (0.25 mm).
4. Terminal numbers shown above are for reference only. Numbers do not appear on the relay.
5. Relays shall have a plus (+) sign placed on the circuit diagram as shown.
6. Coil symbol optional in accordance with MIL-STD-1285.
7. Circuit diagram shown on part is the terminal view.
8. The grounding pin shown is a non-insulated case grounding pin applicable to -057 through -064 only.
FIGURE 1. Dimensions and configuration,
AMSC N/A
FSC 5945
For Parts Inquires call
Parts Hangar, Inc
(727) 493-0744
© Copyright 2015 Integrated Publishing, Inc.
A Service Disabled Veteran Owned Small Business